Chapter 1 In Brief
Unprepared woman conducts appalling interview.
Chapter 1 - My View
Join me on Twitter - www.twitter.com/50ShadesDave
The book is going to be written in the first person. I know that because the first word is 'I.'
Just so you know, this is the level of insight that you will be getting throughout this blog. I've never done a written review like this before. I should be starting my own book, but instead I'm going to giggle at something that someone else has spent months working on. I am in no place to judge anything that anyone has done, least of all E L James who is probably going to make about a billion pounds. BUT...I do hope that this will show a different point of view to a book which has been widely discussed by women...but rarely discussed by men. I'm going into this with a fairly open mind and I will absolutely admit if I enjoy it!
Having said that, the book starts off with bitching and hair. I do enjoy a bit of bitching, but I have shit hair so I'm already struggling. The main character (who is currently nameless) spends the first page being a bit whiny that her hair isn't great. To be honest, that's the least of her worries.
The reason for this is her roommate Kate who seems like a right dick. You see, Kate has the flu which means she can't interview Christian Grey, the Universities benefactor, for the student newspaper. Grey is described as 'enigmatic' despite the fact that our narrator has never heard of him. That's as bad as not knowing someone's name but labeling them as 'a bit whiny.' Our narrator is a student and really doesn't have time to interview him. Like every student, she has to set time aside to write essays, study for exams and get touched up by drunk boys at the bar. Despite these many preoccupations, she agrees to interview Mr Grey who lives ONE HUNDRED AND SIXTY FIVE MILES AWAY! That's like driving from London to Sheffield to chat to a man because your friend has asked nicely. If my friend was ill, I might go to the shop to buy him a Lucozade but if he asked me to drive 165 miles I would happily tell him to fuck himself.
Luckily, Ana Steele, our narrator is a better person than me and armed with a mini-disc recorder and some pre-prepared questions from Kate, 'an exceptional journalist,' she sets off.
After a long drive and a couple of piss stops, she gets to Grey House. Yup. Christian Grey, CEO of Grey Enterprises Holdings Inc has called the company headquarters Grey House. Maybe a tiny bit conceited. Ronald McDonald can get away with it because he's a clown. Christian Grey can not. Anyone described as enigmatic can not also be described as funny. Not that Ronald McDonald is funny. OH SHUT UP, you get the idea.
Interestingly, on the building, the words 'Grey House' are written in steel. Ana's surname is Steele. That's Grey AND Steele combining and becoming one. Like every romance book that has ever been written, I'm guessing that this is how the series ends. I feel that my work here is done...
...or maybe I could just carry on to the end of the book, just because I feel that I should.
Ana walks into the lobby which is partly constructed from steel. A lobby is a large cavernous entrance. Grey enters and exits the lobby every day. The lobby is a massive steel vagina. What am I talking about? I did not expect to write that sentence during this little project.
Ana is dressed like an Aunt, wearing a sweater, boots and a jacket. Just to clarify, I didn't hit the 'a' key instead of the 'c' key. She feels self conscious, a point which is repeatedly brought up. I lost count of the number of times Ana felt out of place, clumsy, intimidated by other women or acknowledging that she'd rather be elsewhere. She is a bit 'meh,' the sort of person who says sorry even if you bump into them.
After being judged by 3 blonde women Ana is finally allowed to meet Christian Grey. Stepping into his office she trips and lands on her hands and knees in front of him. I get the feeling that this won't be the last time she's on her hands and knees when she's around him.
Very quickly we learn 2 things about Christian. Firstly, he's a bit ginger. This will explain why every woman wants Ryan Gosling to play him in the film version rather than Rupert Grint.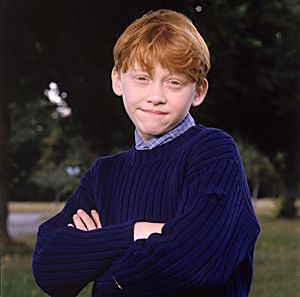 Grint: 'what up ladies?'
Christian also has long fingers. This is mentioned at least 3 times. Christian is essentially an Aye-Aye.
Christian Grey: slender fingers
Ana does think 'If this guy is over thirty then I'm a monkey's uncle.' Clearly she's spotted the resemblance too. Despite the fact that Christian is part-ape, Ana is immediately attracted to him, calling him an Adonis.
Ana then proceeds to conduct the worst interview imaginable. Her job is pretty easy. Read the questions that you are given and make a few notes. Somehow she manages to effortlessly balls the whole thing up, making snippy comments to Christian. This is the same person who is apparently more comfortable at the back of a class, sitting quietly. However, put a Monkey Adonis in front of her and she's all mouth. In fact, you can't shut her up. Through the questions, we learn that Christian is a control freak, that he is is arrogant and is a very private person.
The list of questions she's given are pretty dreadful, so she's not entirely to blame. I don't quite know what article Kate was planning to write, but here are some of the questions. I promise that these are all real:
- To what do you owe your success?
- What do you do to chill out?
- You invest in manufacturing. Why, specifically?
- Are you gay, Mr. Grey?
That last question basically makes Christian go 'WTF??' Who can blame him? Up to that point the line of questioning was pretty mundane apart from a few questions about his background, then out of nowhere Ana hits him with 'AREYOUGAYYOUPROBABLYAREBECAUSEYOUVEGOTNICETEETHANDMONKEYSHANDS.'
Rather than killing the interview, Christian then asks Ana about herself (boring) and her hopes for the future (mundane.) Realising that she is just some skin with a voice box, the interview comes to an end, but not before Christian offers her an internship which she declines because she's got an inferiority complex about not being blonde.
He helps her put her coat on. She gasps at this...probably something to do with sexual tension and then bids him farewell.
Something tells me these two will be meeting again but not before she bitches to Kate about what a dick he is.
We'll find out soon enough!
Follow me on Twitter -
@dvdjmskng